Well this picture from Sunday's game says it all. Cleveland Browns fans have had a bad year following our favorite team but at least we aren't fans of the Detroit Lions. Our team seemed to have gained momentum after the 10-6 season last year but this year it started off bad and got worse.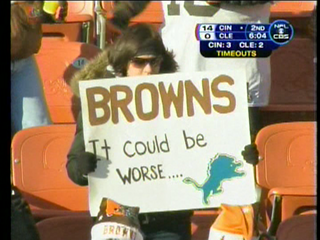 I kind of knew things were going to be bad when they had so many injuries during preseason. The team just couldn't get back on track. Starting 0-3 was bad. Having Pro Bowl QB Derrick Anderson either throwing an interception, into the ground, or having his wide outs drop everything – that was bad.
The offense just stunk up the place aside from lineman Joe Thomas. When an opposing team can stack the box knowing the passing game sucks then the running game stinks. After Sunday's game the announcers said Cleveland has gone 20 quarters without an offensive TD.
Even Phil Dawson has had off year kicking field goals.
There is a clamoring for coach Romeo Crennel to be fired and that may happen but they also need to get rid of some dead weight.
In one game Braylon Edwards was dropping every pass coming his way and they still threw to him several more times after that. If I was coach I would bench Edwards for the dropped passes until he showed he could hang on to them.
The defense has been the only bright spot for the team but the offense needs to put points on the board.
Oh, well… maybe next year…