In politics some things go beyond just simple votes. A politician has to answer to their constituents, donors, and even the party they belong to. On Wednesday March 2nd, the political bill came due for Ohio State Senator Cliff Hite (R-Findlay). He owed a debt to the GOP and they got him to turn his back on his former colleagues in the public schools by voting for Senate Bill 5 that strips collective bargaining from public employees.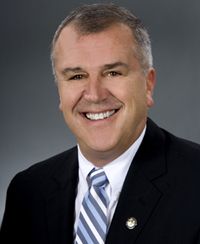 Hite was appointed to the 1st Senate District seat on February 1st.
On March 2nd he was suddenly appointed to the Insurance, Commerce and Labor committee that then voted to pass Senate Bill 5, which severely restricts collective bargaining for public employees, to the full Senate for a vote. Ironically the bill would affect public school teachers, Hite's former profession. He also voted for final passage of the bill.
Before becoming elected as the representative for the 76th Ohio House District, Cliff was a teacher and coach for nearly 30 years. Originally beginning his career in Danville, Kentucky, after earning a Bachelor of Science in Secondary Education from The University of Kentucky, Cliff made his way back to his hometown of Findlay, Ohio where he retired from teaching and coaching at Findlay High School. During his coaching tenure, Cliff won eight league championships, coached three National Football League players, coached 22 First Team All-State football players and was selected Coach of the Year six times. Cliff remains the winningest head football coach at both Bryan and Findlay high schools.
In fact in the 2010 election when he won reelection to the Ohio House he was endorsed by the Ohio Education Association.
I hope the pay back for the appointment was worth it. It was a steep price to take away the rights of union members and add jail time for striking. I'm sure he has all his Teacher pension paperwork in order so it didn't matter to him turning his back on his former colleagues.