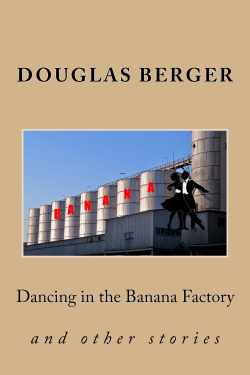 I now have a book and it has little to do with the political and social issue essays I write about here on Doug's Views. It is a collection of short stories that have been taking up space on my computer, and in various notebooks, over the years. Late last year, I decided to finally self-publish the stories and the final product is available for sale.

This debut collection is 18 short stories that were written from the late 1980's to last year. The average is no more than 10 pages per story but there a couple that go longer. I also included a couple of short-shorts that I wrote for a contest I didn't win.
One of the stories, "Henry's Dilemma", was published in the arts supplement of the Ohio State Lantern newspaper, back in 1990, but the rest have never been formally published in print form before now.
I have heard comments about self-publishing but I think it is a good option for fiction, especially with the advances in Print-On-Demand and e-books. I would have liked to have had a book published through one of the regular publishers but for these early stories I doubt it would have happen at all. I'm more than pleased how this DIY effort turned out.
If you love fiction, I would really appreciate it if you could buy my book. The stories in the collection will not only make you feel good it will help me out as well.
The collection is available through Amazon and there is a Kindle version. You can also order directly on the CreateSpace site. The printed book is listed for $15.00 US and the Kindle version will be $7.00 US. It is also available worldwide through Amazon.
If you do purchase my book, please help me out by rating it and posting a review. You can also send me a private note using my contact page here.
To give some idea about the contents, here is a listing of the stories with a brief blurb:
Dancing In The Banana Factory – Biff Fishstick returns to his hometown after being away for 10 years. The reunion with his friends and former girlfriend reminds Biff of the reasons he left in the first place. There may be physical changes, but people hardly change.
Ballad of Bobby Spunk (short short) – Bobby finds out his mother was right. He is a bad boy.
Almost The Greatest Miniature Golf Incident Of All Time – Uncle Billy recounts to his young niece the weird tale about the time, when he was a kid, he competed in a miniature golf tournament against his arch-nemesis.
Social Idiot – Freshman in college falls in love for the first time and struggles to deal with what are new emotions to him. It doesn't help that his new love is spoken for.
An Evening On The Deck (short short) – Evan meets an interesting couple at a cocktail party.
Another Significance – Edison Carter believes he's met the woman of his dreams. Now if he can just find her again without losing his mind or his job.
Henry's Dilemma – Henry's girlfriend wants to be intimate with him but he needs to find some condoms. Will dinner with his crazy family, lack of interest in sex, and bad luck end his relationship with his girlfriend?
Too Much In Common – A soldier returning from the first Gulf War meets a Vietnam vet and they find out they have a lot in common
The Tragedy Of Thoughts – Paul spends a sleepless night struggling to cope with a bad break up.
Corky: A Rabbit's Tale – A lovely children's story about Jim's new pet rabbit, who turns out to be a terrorist and on a quest to take over the world.
The Bet – Twelve year old Davy is talked into a bet to crash his bike into a sheet of plywood. Does it really matter why? Of course, it involves nudie books.
Reflections – Sumner Gray reflects on his life while waiting to "go over the top" to almost certain death, in World War I.
Winds Of Change – Will and Susan recount the story of when they met during a spring break trip to rebuild homes after Hurricane Hugo in South Carolina
Exit 35A – They say opposites attract but does that lead to a long term relationship. Tyler falls in love with Beth but she wants more than what the small town she lives in can provide. Tyler has to make a tough choice to "help" her.
The Pizza Dude – Bennie Harris is a 35 year old pizza delivery guy struggling to finally become an adult after a run in with the law.
Ann's Isolated Mind – After being released from a mental hospital, Ann is sent to college. Will the academic and social stress of college cause Ann to regress?
Fantastic And Brilliant – Paul Kincaid is a struggling writer until he meets a singer who becomes his muse and much more. Sometimes simple luck is all that is needed for success.
Plexiglas Dreams – Hanna Quinn is a teen mom trying to improve her life even as the father of her child and an alcoholic mother try to drag her down. Help from a schoolmate might be what she needs to succeed.