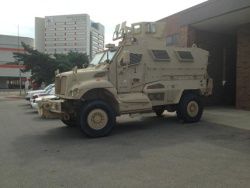 I came a across a report that the Ohio State University Police has acquired a Mine-Resistant Ambush-Protected (MRAP) vehicle for their fleet. Why is the Department of Defense selling a heavy duty military vehicle like the MRAP to a college police department? I know cops like new toys but is the MRAP really needed on a college campus? The reasons OSU give just don't hold up to examination.

MRAPs are armored personnel carriers used in hostile environments like Iraq and Afghanistan where they are needed to reduce causalities due to mines and ambushes. This is frankly overkill for any police department to have and continues the troubling militarism of the police.
When questioned about the purchase Ohio State didn't give much of an answer:
The email explained that the vehicle is also needed for natural disaster relief. Komanc cited past events that would have benefited from the MRAP, such as tornado that occurred at OSU's Wooster campus, which is nearly 100 miles away from where the 14-ton, 11-mpg vehicle is actually stationed. Again, the school contradicts itself, as OSU PD asserted long before they got the MRAP that they were prepared specifically for the disasters Komanc mentions. Also, numerous reports show that the entire state of Ohio is among the safest places from all shades of natural disasters.

Among the questions that remain unanswered is whether any the campus police are qualified to operate an MRAP. Even the Marine Corps, which requires personnel to get specific training and a unique license for the vehicle, encountered many problems ranging from specialized mechanical knowledge for maintenance, to frequent rollovers, and the inability to "pursue the enemy off-road, in confined areas, or across many bridges."

Ohio State University Gets Armored Military Vehicle, Repeatedly Dodges Questions About It
I know equipment is exempt but I still think such a purchase violates the spirit of the Posse Comitatus Act by continuing the militarism of the police. The line between civilian police and the military is getting thinner.
Why does a college police department need a truck with a .50 caliber mount on a turret? Why didn't they just buy a tank?
Very scary.