Ugh! At the end of 3 quarters I thought Findlay would pull out the victory, but a muffed punt close to the goal line ended the try.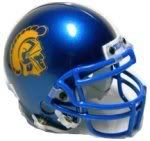 There won't be an asterisk next the "L" Findlay got for Friday's 41-34 loss to Upper Arlington.

And FHS coach Mark Ritzler doesn't want one.

"We're not into moral victories. We were out here to win," Ritzler said.

Findlay's effort against a powerhouse Upper Arlington team went into the books as a loss only in the technical sense, however.

The Trojans overcame a 13-0 deficit to forge a 17-13 lead, erased a 10-point third-quarter deficit to tie the game heading into the fourth quarter, and almost overcame 14 points in the final 5 minutes.

"I told the guys I'm proud of them and I'm proud to be their coach," Ritzler said. "I was proud of the way they kept coming back and fighting. They never gave up."
Next up is traditional powerhouse Cincinnati Moeller in Cincinnati.
Good luck to Coach Mark Ritzler and the Trojans!
And thanks always to WFIN for streaming the games on the Internet for us expats.
PS – you can also hear University of Findlay games on the Internet as well. Go Oilers!