Louise Brooks (1906-1985) was a silent screen actress in the late 1920's who, while only being active for 5 years, became an icon of the flapper era with her signature Dutch bob haircut and devil-may-care attitude.
November 14th 2006 marked the 100th birthday of the legend and I decided to take the opportunity to create this small tribute page to her and her work.
Brooks is best known for the film Pandora's Box/Die Büchse der Pandora (1929) which was filmed in Germany and directed by G.W. Pabst. Brook's character, Lulu, creates the icon of the jazz age. Lulu destroys the lives of a father and son who both compete for her love before she herself becomes the victim of a tragic ending.
Other films she did with Pabst include Diary of a Lost Girl/Tagebuch einer Verlorenen (1929) and Beauty Prize/Prix de beautè (Miss Europe) (1930)
She had left Hollywood for Europe after refusing to take a pay cut when sound came to the film industry. One of the bosses of Paramount, B.P. Schulberg , then put out the story that her voice didn't record well. When Brooks returned to the states she found that her career was pretty much over as other studios wouldn't touch her.
She appeared in a few more "B" pictures before leaving Hollywood for good.
One of her most notable final roles was in the movie Overland Stage Raiders (1938) which paired Brooks with the up and coming star John Wayne. The film itself is a low grade "B" picture but the pairing of Brooks and Wayne make it interesting to watch.
In the 1950's Louise Brooks was rediscovered by French film fans who honored silent films and Brooks in particular for the art of her films. The curator, Henri Langlois, of the "60 Years of Cinema" at the Musee National d'Art Moderne in Paris, which featured Brooks, uttered his famous statement: "There is no Garbo! There is no Dietrich! There is only Louise Brooks!"
Later, Brooks moved to Rochester, New York, where the George Eastman House film archive is located, and she became a popular writer and speaker on silent film history.
Why I like her:
Her beauty of course draws me in but then her face is so expressive. Many times you can get the gist of the scene just by looking at her expression.
I also liked her personality. Sure she might seem diva like to many but to me she did her own thing and screw you if you didn't like it. That explains the end of her Hollywood career. The studios used actors like cattle and anyone who made waves or thought to do their own thing were black listed out of the industry. Brooks was way ahead of her time. Eventually the contract system would end and now actors are free to make whatever picture they want.
Louise Brooks was very intelligent and never played a "good girl" or bimbo. Directors liked her for what she did for the eyes but film fans saw how good an actress she was and many times she was playing herself.
Actress Lindsay Lohan had a lot in common with Brooks in that they both had way too much fun off screen and killed it on screen. Both also pissed off studios and other suits with the off screen antics. However Louise's only addictions were alcohol and sex.
My film picks:
Although many of Louise Brooks' films are lost to history, three of her most famous ones are still available and happen to be the one's I like the most.
The rise and inevitable fall of an amoral but naive young woman whose insouciant eroticism inspires lust and violence in those around her.
Thymiane Henning, an innocent young girl, is raped by the clerk of her father's pharmacy. She becomes pregnant, is rejected by her family, and must fend for herself in a harsh, cruel world.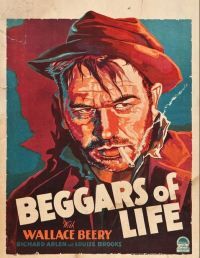 After killing her treacherous step-father, a girl tries to escape the country with a young vagabond. She dresses as a boy, they hop freight trains, quarrel with a group of hobos, and steal a car in their attempt to escape the police, and reach Canada.
More information:
I didn't want to duplicated all the great information on Brooks and her films so here is a link to the definitive website for Louise Brooks.
Some of her films are available for purchase on Amazon.com, Kino International and Grapevine Video.
---
This page is part of
Doug's Views
Layout ©2006-2012 Doug Berger Some stills used on this page captured from personal copy of "Looking for Lulu" ©1998 Turner Classic Movies