My Little Tribute to The Corrs: The Albums
Here is a listing of the studio albums released in the US. I also comment on the songs on each album that I liked. This is not a complete discography. For a full list you can visit The Corrs discography on Wikipedia
Forgiven, Not Forgotten (1995)
I like Forgiven, Not Forgotten. It is a good debut album with some excellent songs like the title track but it does have a weak part in that there are several instrumentals (although I will say they are good but on a Pop record not so good especially if there is more than one).
My favorites:
Forgiven, Not Forgotten; The Right Time; Closer; Erin Shore
Talk On Corners: Special Edition (1999)
The band released the remixed version of Talk on Corners in the US. It includes dance remixes of several main songs. I found the remixes to be a mixed bag. I thought the remix of "What Can I Do" was awful - I prefer the unplugged version with the backing orchestra. I did like the "So Young" remix.
My favorites:
I Never Loved You Anyway; Dreams
In Blue (2000)
In Blue causes divisions in the Corrs fan community. There are some who love it and some who hate it. When it was released it was a departure from their more traditional Celtic infused Pop. The biggest hit "Breathless" was written with producer Mutt Lange and his commercial success shows itself on this album.
My favorites:
Breathless; Give Me A Reason; Somebody For Someone; Radio; Irresistible; No More Cry; Give It All Up
VH1 Presents: The Corrs, Live in Dublin (2002)
A live album released only in the US as a companion to a TV special on the VH1 network, the band plays all their hits to this point as well as some excellent covers. Includes special guests Bono and Ronnie Wood.
My favorites:
Would You Be Happier?; When the Stars Go Blue; Summer Wine; Only Love Can Break Your Heart
Borrowed Heaven (2004)
The band returns with their first studio album in 4 years. They also return to some of the traditional elements in their Celtic fused Pop. Not to mention they did their first headlining tour of North America in August of 2004. While the sound is similar to their first album, there is maturity in the music and lyrics that make the whole album a great experience.
My favorites:
Even If; Angel; Humdrum; Baby Be Brave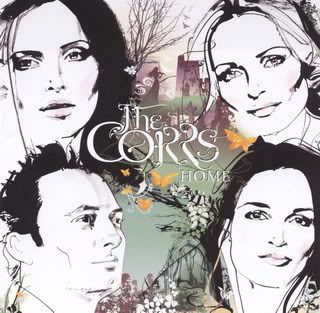 Home (2005)
Only a year after releasing their last album, the band returns with a collection of Irish songs that they grew up listening to in Dundalk. They were collected from the song book of their late mother Jean. For years fans had been asking for return to the sound of their first album "Forgiven, Not Forgotten (1995)" and "Home" is it. But it isn't just a "folk" album, the band's pop sense comes through on many of the songs. The album wasn't released in the US until March of 2006, but I bought it online as an import.
My Favorites: My Lagan Love, Black is the Colour, Spancil Hill, Peggy Gordon
Cover art scanned from my personal CD collection. *Note* the cover of In Blue above is from the Australian import I bought locally. I couldn't find my US version.
---
This page is part of

My Little Tribute to The Corrs