I woke on Tuesday morning (8/22/07) to news of nasty flooding in Wyandot county and Richland county. We had some nasty storms come through the day before and I noticed overnight the areas north of Columbus getting hit with a lot a rain again. So when the news was getting bad I knew my home town of Findlay would have trouble.
The Blanchard River runs from around Kenton north before turning a sharp left, then west, through Findlay and Ottawa then it empties into the Auglaize River which in turns empties into the Maumee then Lake Erie.
Then I heard the news that Carey and Arlington were evacuating people. The count down was on.
Soon flash flooding was happening in Findlay hitting areas that rarely get wet. Then the big water hit causing the river to rise to 18.5 feet matching the record 1913 flood.
Needless to say this flood was huge. Not everyday the Coast Guard is patrolling Main Street in an air-boat.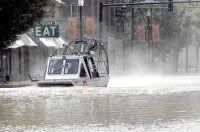 The recent flooding reminded me of other times when the Blanchard flooded. The last major flood was in 1981. Rawson Park was a large lake, most county roads were closed, and a car dealer moved his inventory to overpass on Central Parkway to escape the water.
Other times there has been minor flooding. Lye Creek that runs through the fairgrounds seems to flood every fair cutting off the northside of the fairgrounds from the southside. River St and Howard Street flood just past I-75. Miller's Luncheonette has been flooded so many times that this time the owner didn't even rush downtown – he knew it would be bad and there was nothing to do until the water went down.