Found out today that Ohio Governor John Kasich is censoring any video or photos from his budget plan release press conference on Tuesday. The arrogance of this joker is ridiculous. I guess he doesn't want any video record of what he presents that can be used against him later. You last saw this kind of secrecy in the administration of President George W Bush and has never been done at the state level. Kasich has also fallen in a recent poll and he's only been in office three months.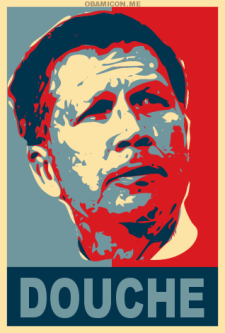 Reporters have been told they will not be allowed to broadcast sound and images from the Tuesday release of Ohio Gov. John Kasich's budget plan.

Spokeswoman Connie Wehrkamp says journalists can bring only pens, notepads and tape recorders to the afternoon briefing, where Kasich is to announce the first details of his state spending blueprint for the next two years. She says videos and photos will be prohibited and the audio may not be used for anything but checking accuracy.
King Kasich's day gets worse.
In his first two months as Governor, John Kasich has scored a lower approval rating than the last three Governors, including Bob Taft, at this point in their terms. Most telling in this first poll are the independents, who at this point, are decidedly against the Governor – disapproving 52% to 30%. Kasich receives even worse marks for his handling of the economy, picking up the approval of just 38% of those polled.