{EAV_BLOG_VER:c5a647f92fc5c3b9}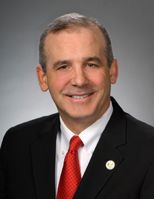 Ohio cheap labor conservative Republicans scored a direct hit against women today by getting the most restrictive anti-abortion bill passed today. House douchebag leader Matt Huffman (R-Lima) pulled the reason to pass it out of his large lumpy ass and it made me wonder how can men tell a woman what to do with their body but look out if you demand someone get health insurance or make any comments about what people should eat.

Today, the Ohio House approved three anti-abortion efforts, including the nation's most radical anti-abortion bill. Known as the "heartbeat bill," the legislation prohibits a woman from seeking an abortion if a fetal heartbeat can be detected, which can be as early as "six to seven weeks into pregnancy."

On the state house floor today, state Rep. Matt Huffman decided that the "heartbeat bill" is a "significant step" in the history of civil rights in all of western civilization. Declaring a fetus to be "a person," Huffman likened lawmakers who oppose the bill to slave owners who would eventually see the errors of their ways.

Ohio GOP Lawmaker Compares Opponents Of Nation's Most Radical Anti-Abortion Bill To Slave Owners
I am just at a loss for words and it makes me so ticked off that the voters of my state elected these people to office.
I've read about the time before Roe v Wade and I've talked to women who lived in that time and nothing I've read or heard says those were good times or better times.
Pretty soon birth control will be outlawed and then we go back to those days of the bloody hanger in the back alleys.
That's progress? Oh and where are the jobs?