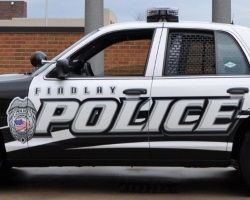 For the first time in 16 years, a Findlay police officer shot and killed a suspect. When the press asked if there was body camera or dashboard camera footage of the stop the police said no. Findlay Police don't have cameras and Mayor Lydia Mihalik said cameras are not cost effective. Obviously the Mayor has a short sighted view of cameras for police officers.

Editor Note: I will say first off that I am not hating on the Findlay Police Department. The incident on Tuesday is still under investigation so I have no reason at this time not believe the official version of events. My concern, in the current climate of eroding trust in the police in general, that body or dashboard cameras would add accountability and would improve citizen trust in the police here in Findlay. I disagree with the Mayor's position on cameras.
The Findlay Police Department has no dashboard or body cameras, but they wouldn't have made a difference in Tuesday's shooting, Mayor Lydia Mihalik said.

Jeremy Linhart, 30, of Findlay, was shot and killed by a police officer early Tuesday in the 800 block of West Sandusky Street.

"I don't think it would have affected the outcome of the incident," Mihalik said about the use of cameras.

The department doesn't use cameras since shootings and similar incidents are uncommon in Findlay, Mihalik said. Linhart was the first person to be shot by city police since 1999.

Police Department cruisers do not have cameras because they are "cost prohibitive," Mihalik said Tuesday.

"I would much rather spend the money on officers as opposed to cameras," she said.
She also had similar remarks in an interview with a Toledo TV station:
"Those particular devices would not have prevented this particular situation," says Findlay Mayor Lydia Mihalik.

Mihalik shows no interest in buying dash or body cams for the Findlay Police Department. She says they're not cost effective or preventative. The last police involved shooting in the Flag City was 16 years ago.

"I would rather invest in more training for our officers, more officers on the street," says Mayor Mihalik. "We need to make sure that our officers are equipped to handle things that they deal with all the time, not necessarily something that would be called for in an incident like this that doesn't happen every day."

Friends of man killed by Findlay police officer question why PD doesn't use dash, body cameras
The problem seems to be the Mayor doesn't know how the cameras would work. No one has said that a camera would have prevented the shooting on Tuesday, but use of the footage may help prevent a future shooting.
Cost effectiveness is not limited to a budget item. There is the long term costs of lawsuits and bad PR from bad stops or other incidents involving interactions between civilians and police officers. There is evidence that cameras help in this area:
So it is in Rialto, Calif., where an entire police force is wearing so-called body-mounted cameras, no bigger than pagers, that record everything that transpires between officers and citizens. In the first year after the cameras' introduction, the use of force by officers declined 60%, and citizen complaints against police fell 88%.

It isn't known how many police departments are making regular use of cameras, though it is being considered as a way of perhaps altering the course of events in places such as Ferguson, Mo., where an officer shot and killed an unarmed black teenager.

What happens when police wear cameras isn't simply that tamper-proof recording devices provide an objective record of an encounter—though some of the reduction in complaints is apparently because of citizens declining to contest video evidence of their behavior—but a modification of the psychology of everyone involved.
Cameras not only help reduce use of force incidents and citizen complaints, the footage can be used to train future police officers – either showing the correct way to do something, like a traffic stop, or showing how NOT to do it.
As noted in the Courier article, the Hancock County Sheriff has some dashboard cameras in their patrol cars and the State Patrol all have dashboard cameras. Just in the past year or two the Wood County Sheriff (just north of Findlay) has bought body cameras and the Bowling Green police are considering them. Cameras aren't only for urban police departments like Toledo.
Findlay isn't just a quaint rural city with no crime issues. It's probably bad for city PR but the Mayor probably knows that Findlay, like much of the state, has a heroin problem. Findlay is half-way between Lima and Fremont, cities that also have serious drug issues. Findlay is on I-75, a major drug pipeline from Florida and Texas to Detroit.
We may not have police shoot outs often but the environment is ripe to see an increase. Why wouldn't the Mayor want to add a layer of accountability to make sure the training she feels strongly about is actually being used.