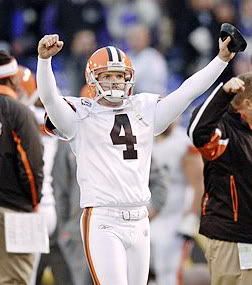 After being the goat in missing a 52 yard field goal at the end of regulation against Pittsburgh, the Browns' Phil Dawson makes a 51 yarder that hit the upright and then hit the neck of the post supporting the uprights.
Game officials at first said it was no good and the Baltimore Ravens celebrated a come from behind victory, but the Browns protested After a long conference the Refs made the right call and reversed their previous call and ruled the attempt good. That sent the game into overtime.
The Browns got the ball in OT and marched down the field and Philly Dawg kicked a 33-yard field goal to win the game.
It also helped that kick returner Joshua Cribs had 306 yards in kick and punt returns in the game including a 41-yard kickoff return that led to the game winning field goal by Dawson nine plays later. It moved the Browns to 6-4 on the season
Here we go Brownies here we go!
Here we go Brownies here we go!
See the tying kick that bounced off the goal post support bar