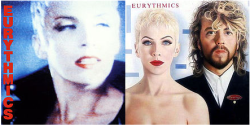 A classic human milestone is one's first broken heart. It can happen at any age but it does happen to all of us at some point. My first broken heart was during my college years when my first real love didn't share the same feelings for me that I had for her. I hit a very rough patch that took several months to heal. It also probably cost me two friendships as they got tired of my blubbering depression and needing to talk about the event incessantly. Lucky for me I had the Eurythmics on my record player for much of that tough time and their songs helped mend my broken heart.

I had been a fan of Annie Lennox and Dave Stewart since "Sweet Dreams (Are Made of This)" but there were two albums specifically that got me through my melancholy: "Be Yourself Tonight" (1985) and "Revenge" (1986). I had picked them up at a local record store and already had dubbed them to a blank cassette so I could listen to the music while walking to class.
"Better to Have Lost in Love (Than Never to Have Loved at All)"
"Better To Have Lost in Love…" just hit the nail on the head. It was like the band foretold my angst but was telling me everything would be alright.
Cool tears flow upon my pillow.
And I'm freezing blue with misery.
You know that I never meant to hurt you
But something always gets right in the way.

So I'll fill this bedroom full of mystery.
Hang our last conclusions on the wall.
And if this empty building starts to get to me
Please remember that it just might be your fault.

Better to have lost in love
Than never to have loved at all…

So the fated lovers turn to enemies –
And all their hidden feelings start to show.
And I never though that boy
Could mean so much to me.
And now it seems I'll have to let you go…
"Here Comes That Sinking Feeling"
"Here Comes That Sinking Feeling" also was a laser pointer at the mess I was in and shouldn't have been.
Nobody hurts me like you do.
You cut into me like a poison dart.
Creep into my sleep at night.
Break into my dreams and tear them apart.

Here comes that sinking feeling.
"Thorn in My Side" from the Revenge album expressed my messed up head although in real life I wasn't angry at the person in question. I was angry at myself because I couldn't stop thinking about the girl. It didn't help that we still hung out in the same social circle and even though we agreed we were "cool" I lied. I wasn't cool at all.
Thorn in my side.
You know that's all you'll ever be.
So don't think you know better
'Cause that's what you mean to me…
I was feeling complicated.
I was feeling low.
Now every time I think of you
I shiver to the bone…
"The Miracle of Love" was another song that said "you are feeling crappy now but just wait – the miracle of love will come your way again…"
How many sorrows
Do you try to hide
In a world of illusion
That's covering your mind?
I'll show you something good
Oh I'll show you something good.
When you open your mind
You'll discover the sign
That there's something
You're longing to find

[Chorus:]
The miracle of love
Will take away your pain
When the miracle of love
Comes your way again.
After all the "Sturm und Drang" of the previous songs "When Tomorrow Comes" is a pick-me-up in comparison. As my fog lifted, this song let me know that even though the relationship didn't work out – we could be friends and that is what happened. I was finally able to move on and lust after other women during the rest of my college experience.
Underneath your dreamlit eyes
Shades of sleep have driven you away.
The moon is pale outside
And you are far from here.

Breathing shifts your careless head
Untroubled by the chaos of our lives.
Another day, another night
Has taken you again my dear.

And you know that I'm gonna be the one
Who'll be there
When you need someone to depend upon
When tomorrow comes
When tomorrow comes

Wait till tomorrow comes, yea yea
Wait till tomorrow comes, yea yea
Last night while you were
Lying in my arms

And I was wondering where you were
You know you looked just like a baby
Fast asleep in this dangerous world.
Every star was shining brightly
Just like a million years before.

And we were feeling very small
Underneath the universe.

And you know that I'm gonna be the one
Who'll be there when you need
Someone to depend upon
When tomorrow comes
When tomorrow comes
Like I said, the first broken heart is a human milestone in life. It has been two decades since it happened to me and I remember in vivid details what happened and the funk I was in for months. When I hear "Be Yourself Tonight" and "Revenge" either on my mp3 player or on the radio, I can smile and enjoy the music that got me through my rough time.
Thanks Annie and Dave…